In my journey to Paleo I discovered that Thai food isn't all that bad a choice. The non-Paleo things can easily be eliminated, like rice. I often eat curry on top of steamed broccoli, I even ask for it that way in the restaurant. Another non-paleo ingredient often used is a little bit of sugar. When I make Thai food at home I use a non-caloric sugar option like stevia,
erythritol
or the extract made from
Lohan fruit
(aka
SlimSweet
). (I'm not affiliated with anything linked here so clicking on them, buying, etc doesn't make me a cent). Finally, Thai food often contains peanuts and one of my very favorite sauces has them (Satay sauce, aka peanut sauce) and that isn't a paleo ingredient either.
I love going to Asian grocery stores but not every Asian grocery has Thai ingredients like curry paste. For that I go to my favorite Thai restaurant,
Sala Thai,
and I ask them to recommend a good place to find Thai ingredients. My family has been patronizing that restaurant for as long as they've been open so they know us really well.
The Asian grocery I finally visited was in a really rather squalid area. Outside it was cringe-worthy. Inside, is another matter. I do have to warn you, Asian markets are usually an olfactory experience! They usually have a lot of smells we're not used to. Not unpleasant, in my opinion, just different.
The fresh foods are really fun, lots of things I'm utterly unfamiliar with, some I am. The daikon radishes can be thicker and longer than my forearm! The baby bok choy I bought was irresistible! A very large bag full and they were much less mature than the baby bok choy I've seen in American markets. I stir fried them in peanut oil with garlic and chopped peanuts. Ginger is also a bargain at Asian groceries. Sometimes I buy a few pounds of it, run it through my food processor to grate it (I don't bother peeling it) then I soak it in water and make a delicious strong ginger "beer" out of it, which is nice mixed with sparkling water.
In the produce section, if you're thinking of making Tom Kai Gai you might want to look for lemon grass and a root called
galangal
. The root is really hard to chop, it is very dense, but the taste is fabulous. The powdered stuff, in my opinion, is nearly tasteless. Get the fresh root if possible. Powdered lemon grass is also not very good either. You might also want to see if you can find some lime tree leaves. These are from a lime tree they grow in Asia which I believe is called "Kaffir lime" in the US. They're very flavorful and also used in Tom Kai Gai. You can freeze these leaves and use them later.
Another thing to look for is coconut milk. Asian markets sell it in much larger cans than American markets do, and it is much cheaper and higher in fat and coconut solids. So it is good to buy the authentic stuff if you can.
Get a bottle of fish sauce while you're here. It is very inexpensive and comes in a huge bottle. It'll keep for months in the fridge.
Find the canned curry pastes. You're going to be looking for cans that look like this, most likely.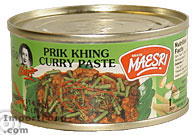 I have also used
importfoods.com
to order Thai ingredients but it is cheaper to buy locally if you can find a store.
Which curry pastes? I love Prik Khing and often combine it with meat and yams to make curry. I think it is similar to red curry paste. Choo chee curry is a greenish, sour curry I've had with salmon and really enjoyed. Panang curry is one of my all time favorites. It goes well with any meat. Yellow curry is sometimes called Karee curry and is very mild. This is what they use to make that yellow curry with potatoes. But any sort of root veggie would be good in this curry, for instance yams or squash.
Those are the basic ingredients for Thai cooking although be sure to thoroughly browse around the market you never know what you'll find.
I make Pad Thai, a wonderful rice noodle dish, but instead of using rice noodles I use either
riced
cauliflower or kelp noodles. Both are very low carb.